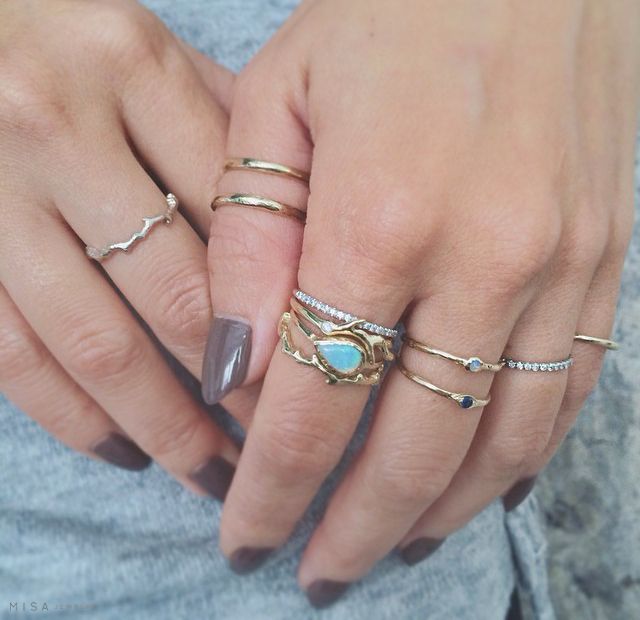 Hello ring game!
Haven't tried to stack your rings yet? Or that's maybe the only thing you actually do when wearing rings? Then you have to know about Misa Jewelry. Designer Misa Hamamoto has an excuisite range of thin rings to die for!
Stacking delicate gold rings has become more commonplace. Not always that easy to do but actually you can't do anything wrong. No rules, great rings. Mix all the stones and metals you want…you name it, simply stack them.
The Compass ring, Timber Guard rings, Thin Diamond ring, Fire Coral ring and Opal Eternity ring are a match made in heaven. They are meant to be worn together. And by preference on my own finger(s), ha!

Tips on stacking rings:
Dare to pair your metals – Mix your silver, gold and rose gold rings. It's allowed!
Your midi ring can also be used as a pinky ring – Two for one!
The middle finger stack is a Diva! – This is called the "power stack". Make it look WOW by wearing your statement piece along with some thin rings.
Stack smaller/thin rings on top of each other.
Wear different shapes and styles.
Combine your rings with a handpiece.
Don't forget your family heirlooms – They can look even more fabulous stacked together combined with modern styles.
Conclusion on how to ring stack : Loading multiple fingers with numerous rings. Don't be shy, simply try.