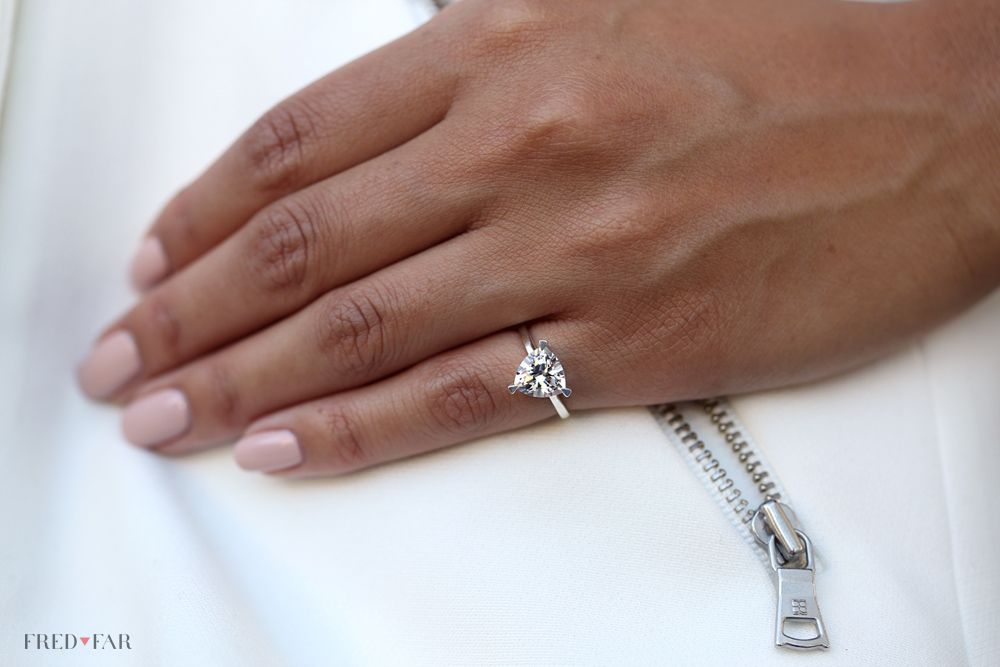 I recently came across Fred + Far and got very intrigued by what I saw.
They not only created a stunning pinky ring but there is also an incredible story behind it. The Self Love Pinky ring is a reminder to choose and love yourself. A ring with a meaning, a symbol on its own, proudly to be worn by women who are committed and proud of themselves!
Of course, I had to ask a few things so below is a little Q&A:

Founder and co-creator Melody on the stone cut and the fab prongs (which I'm obsessed with):
We spent over a year narrowing in on the design of the Self Love Pinky Ring. We wanted every aspect of it to embody our core values of clarity, commitment and creation. The first thing we did was research stones to discover which ones aligned with our goal of empowering women from a metaphysical perspective. The White Sapphire is renowned for bolstering your wisdom, strength of spirit, and intuition. It also strengthens communication, helps overcome obstacles, reveals your talents and inspires living with integrity. Simply put, it is the perfect stone for us. We elected to use lab-created sapphires since they are biologically identical to natural stones, but are environmentally friendly and conflict-free. As a result, we believe they carry a pure, conflict-free energy that benefits the wearer.




The next step was integrating our core symbol: the upside down triangle, which you see in our logo. The upside down triangle is an ancient symbol of the divine/sacred feminine. We wanted this ring to help women connect with this inherent power within all of us. You'll find the triangle incorporated three ways: the shape of the stone (trillion cut), the basket that holds the ring (it features three triangle cutouts), and the prongs. We designed a bold triangle prong that intentionally makes a strong statement. We wanted a design that was perfectly integrated, and embraced the beauty of each element in play: the stone, the metal, the symbolic shapes. Everything is connected and honored, just like the women who wear our rings.
Why a pinky ring?
Our goal in launching the Self Love Pinky Ring was to inspire women to wear a piece of jewelry to choose and remember themselves, since so many women we know are prone to self sacrifice, or go in and out of connecting with their authentic selves depending on the stage of life they are in. The pinky is often overlooked when it comes to jewelry, so we wanted to use it as a parallel symbol. Claim your pinky, claim yourself. While most pinky rings that are available from other jewelers are either inspired by men's signets, or are simple bands, we decided to draw inspiration from engagement rings and be bold. Why should honoring an engagement to another be the only time we were something truly spectacular?

Where came the idea from? What's the story behind the self love ring?
The story behind the ring is a personal one. In January of 2015 I was struggling while trying to balance being a mother to my twin girls (then 2.5), a wife to my husband, and a boss to my employees (I have my own business that I run alongside Fred+Far). Everything was getting done — because that is what a perfectionist makes sure of — but I personally wasn't taking anytime to connect with myself or take care of myself. I had become a bystander in my own life. Jewelry has always been a big part of my family. We celebrate all milestones with jewelry, and some of my oldest memories are of playing in my mom's jewelry box. When it came time to reclaiming myself, I knew a ring was the way to go. I decided to create a bold pinky ring because I had never worn a ring on that finger before. This was my new beginning. Each day I looked at the ring and reminded myself that I was worthy of the love I so freely gave everyone else. The result was so transformative that I, along with my best friend and now business partner Samira, decided to create Fred+Far, not just to launch the Self Love Pinky Ring, but to build a community of women who honor themselves, and each other.
We are so proud that this has happened. We have women wearing the rings around the world, and sharing their stories and pictures on Instagram using the hashtags #fredandfar and #selflovepinkyring. When you purchase the ring, you receive a pledge card as well. Women are signing their names and snapping pictures of their commitments. It is truly extraordinary to witness.
What's next?
We're currently on the cusp of launching our next campaign, which is called Find Your Me (#findyourme). We are launching another ring, and other lifestyle items, to reinforce the idea that within all of us there is our most authentic version, the one that is untarnished by the weight of responsibility, pain, or disappointment. The Self Love Pinky Ring was about choosing yourself. This new campaign is about figuring out who YOU truly are once you make that commitment. We can't wait to see what happens when women use these items as a means for connecting with their true selves, and look forward to sharing their stories.


[All images thanks to Fred + Far | Collage by MoJ]