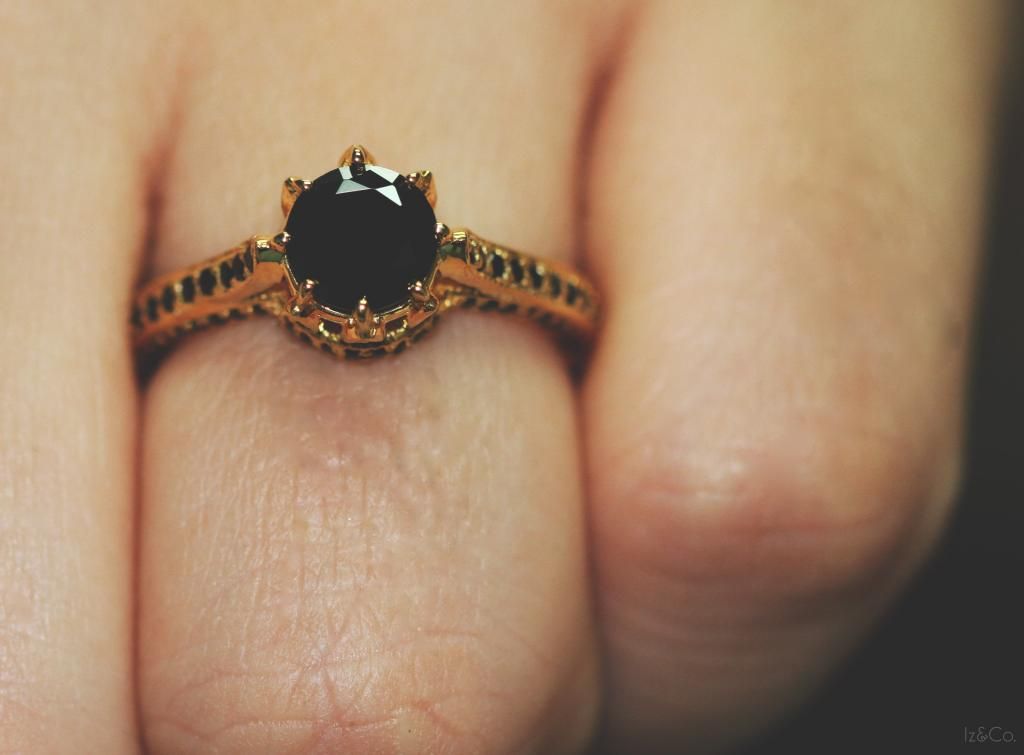 I am following Iz & Co. since a little while now, on Instagram. Through this channel I recently had a crush on this ring which I am featuring today For your eyes to see, for your heart to fall in love with. It is called the Royal Black Diamond ring.
An absolute stunner if you ask me. The ring includes multiple  black diamonds on every side and a bigger one in the center. It is a classy and stylish engagement ring with an edge.
In case you don't like black diamonds…no worries because this ring is made to order. This means the black diamonds can be changed  for rubies, sapphires, etc. Whatever you like, you decide.

The ring is available in Yellow, White, Rose Gold and Black gold. Can you decide on which is your favorite one?
As when it comes to the designer behind Iz & Co., Israel (aka "Iz") has grown up in the jewelry industry.
His dad has always been a designer and a jeweler so he would always so I always helped his dad out around his small workshop doing anything from dusting his bench to stretching gold wires for hand made designs, polishing, welding, etc.
The best way to learn and fall in love with this profession!
Iz then went on to study at the Gemological Institute of America and even worked there for 8 years as a Diamond Grader getting to travel to Israel, India and South Africa helping to develop and teach new diamond graders in those countries. Jealous yet?
After that he just wanted to go back to his roots that was jewelry designing and making so Voila! Iz has now his  own company which he started  about 2,5 years ago. Something to be very proud of if you'd ask me. He started out by making engagement rings for friends that would contact him out of the blue to see if he could help them out with such an important purchase. Because that's what engagement rings are, important!  After having created a  couple of rings Iz decided to go ahead and actually start Iz&Co. where he wanted to make traditional classic looking jewelry but also make jewelry that looks badass and has a little edge to it. That's what the  Royal Black Diamond ring exactly is.
Engagement rings are a huge thing for designer Iz. It makes him  feel honored to make them for the meaning and importance that such a ring has, so . As he told me: " To have a client trust my work for a life event this big is just humbling to say the least.". I couldn't agree more with Iz.
In case you love Iz & Co.'s style, all of their designs are made to order which means that if a client, you!, wants to make any tweaks to the metal or stones used you are more than welcome to do so. Special requests can be done as well so feel free to contact them with your design ideas or visitthe  NYC studio and let's make it come to life!
[All images by Iz and via Iz & Co. | Edit and collage made by MoJ]