Jackie LeBental is an industry expert and owner of Barri Luxury Consulting. As a consultant she offers jewelry designers and retailers personalized business management and industry guidance to help them to achieve their goals such as; branding strategies, creative direction, trade show development, organizational management, and much more.
I like to discover about new brands, designers and collections but I also like to know more about the other side of the industry and everyone who's in it. Therefore I also questioned Jackie about her job and everything around it.


How does a normal day look like?
Coffee before anything!
Exercise is second. When I was younger I was a competitive swimmer and athletics was a huge part of my life. Exercise is such a great way to maintain high energy, focus and a healthy life style.
Then the work begins! Since the launch of Barri Luxury Consulting last year I have had the privilege to work with fabulous designers and retailers on various different projects that are customized to their business goals and long term development.
What does consulting exactly mean?
I think of myself as a jewelry business manager, a similar role as to those who assist artists, actors, musicians, models etc with building their careers. I am able to see growth opportunities in a fresh light, solve problems with creative insight and form foundations in order for designers, brands and retailers to streamline and grow their business. Consulting is not telling a business owner what to do, rather its working together as a team to build and customize a structure that works for them.
Where comes your interest in jewelry from? How did you get into it?
It was a complete accident. As I was attending business school at Northeastern University in Boston years ago, a dear friend of mine wanted to buy a pair of diamond studs for his then girlfriend. I went with him on the hunt to the Boston diamond district which is where I met my first industry employer. After haggling a bit for my friend, the man behind the counter offered me a job. I worked part time for almost 3 years learning from the ground up. I learned about sales, jewelry repairs, diamond grading, and customer service among other things and fell in love with the industry. After graduating I knew I wanted to build a business career in jewelry. My first corporate position was with one of the largest manufacturers in NYC, Fabrikant and then for over 14 years I worked with and for top luxury brands and retailers in the industry.


What do you love about your job?
BLC's foundation is geared towards customizing guidance and business solutions for a diverse jewelry coterie. Everyone is at different stages of their business and I am able to provide an extensive degree of guidance. One of the things I value the most in the jewelry industry is its like one big family. I love helping clients in creative ways to improve their business and reach their goals. You must be fluid, flexible and fresh in today's very competitive jewelry industry and it's my passion to help guide individuals through it. The ultimate satisfaction is when I have received communication from a client thrilled with the work we have accomplished.
Why do designers need a consultant?
Everyone including myself gets into a daily routine and a fixed environment.
As a consultant I am able to provide business solutions and creative insight from a fresh perspective. It's vital to understand how every aspect of your business is operating; what is working and what isn't. Whether it's a selling strategy, business organization, marketing, trade show development, collection analysis, sales staff training, social media, ecommerce, I am able to assist designers and retailers with various different areas of their business and create innovative ways to keep their business fresh and growing.
I originated what I call the LAE guide; Listen, Analyze and Execute. I have found that this infrastructure sets a solid and smooth foundation in the development of a customized guidance strategy. I learned early in my career that you must listen to your client's needs, wants and goals in order to assist them to the best of your ability. Everyone whether you are an emerging designer or an established brand needs an outside point of view.
What are your goals as a consultant?
For me consulting is all about connecting on a personal level. Developing and maintaining a customized approach for each and every client is my number one priority. My passion is to be as diverse as possible and assist all types of designers and retailers, whether they are fashion or fine, unique or trendy. As Barri Luxury Consulting evolves, I want to be that main source of guidance and business management for the world of jewelry. The partner that inspires, leads and creates an environment that the jewelry industry loves to come too.
What inspired you to become a consultant?
The jewelry industry has gone through turbulent cycles in past years. I was driven by this fluctuating environment to form a customized resource platform for designers and retailers that combine experience, vision and passion for the modern jewelry world. I am a huge researcher and love finding up and coming designers who are in the stages of building their business and brand. I named my company Barri after my grandfather Barry, who was a business pioneer for the printing industry. I am inspired every day by the drive and creativity in the industry and will continue to be a resource leader of guidance and business management for the jewelry industry.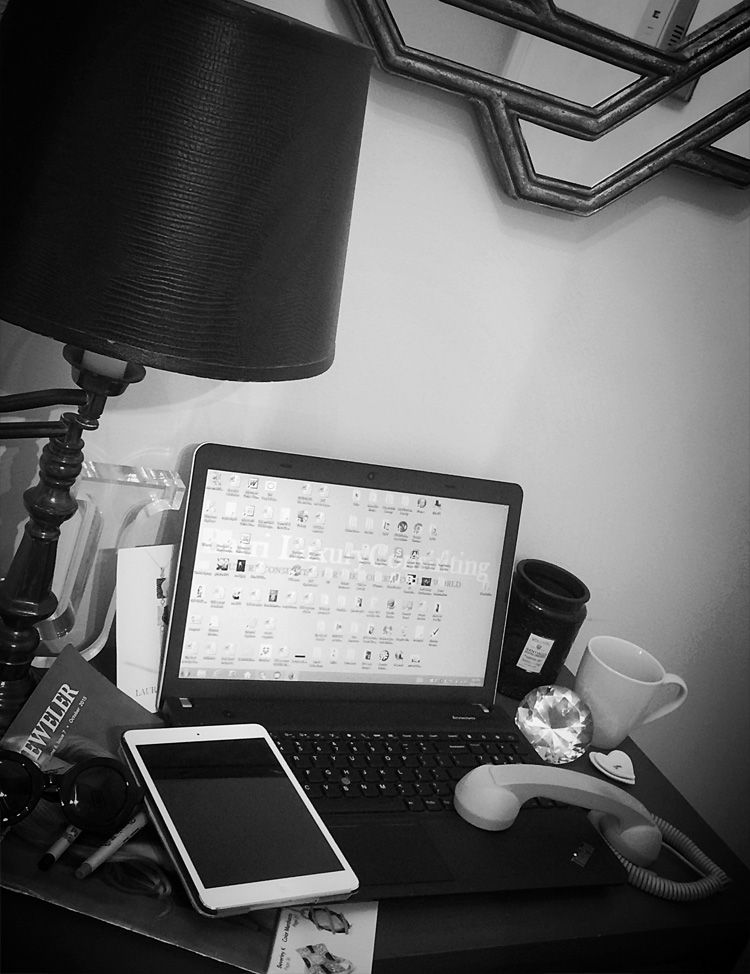 What are some of the challenges in your work?
Change does not come naturally for most people. It is a delicate balance to introduce new ideas and concepts to any business owner. It's all about taking the time to listen to what their priorities are and structuring a plan around them.
My years of sales experience has allowed me to work with a diverse group of people. I have a natural ability to quickly evaluate a person's comfort level and adapt accordingly. The biggest challenge is to maintain a sense of expectation. Change sometimes requires patience, time and trial and error. Remaining focused and determined keeps the positive momentum going and the new ideas flowing.
What do you enjoy most about what you do?
Jewelry is a personal thing and I have a great understanding and passion for this industry.
It's been a dream to see my clients utilizing my ideas and concepts into their daily business and have it mature into a success. I have had such a wonderful response since launching BLC from the industry and have been honored to partner with fabulous leaders in the jewelry world. It's the most gratifying feeling to combine your years of hard work and experience into an exciting and new arena for designers and retailers.
Right now I'm wearing… black jeans from Zara, chunky warm grey sweater from Barneys and black Tod suede sneakers
The very last thing I bought was… Grey suede Ash booties, which I live in. I am obsessed with anything grey
My favorite brand/designer is… I am currently obsessing over the Candide Bag from Zadig and Voltaire.
The piece of jewelry I never take off… The Maya Brenner J initial necklace that was a gift from my boy friend
Books or movies? Jerry Maguire
Coffee or tea? Coffee
City or country? City with a splash of country
Morning person or night owl? Morning person 100%