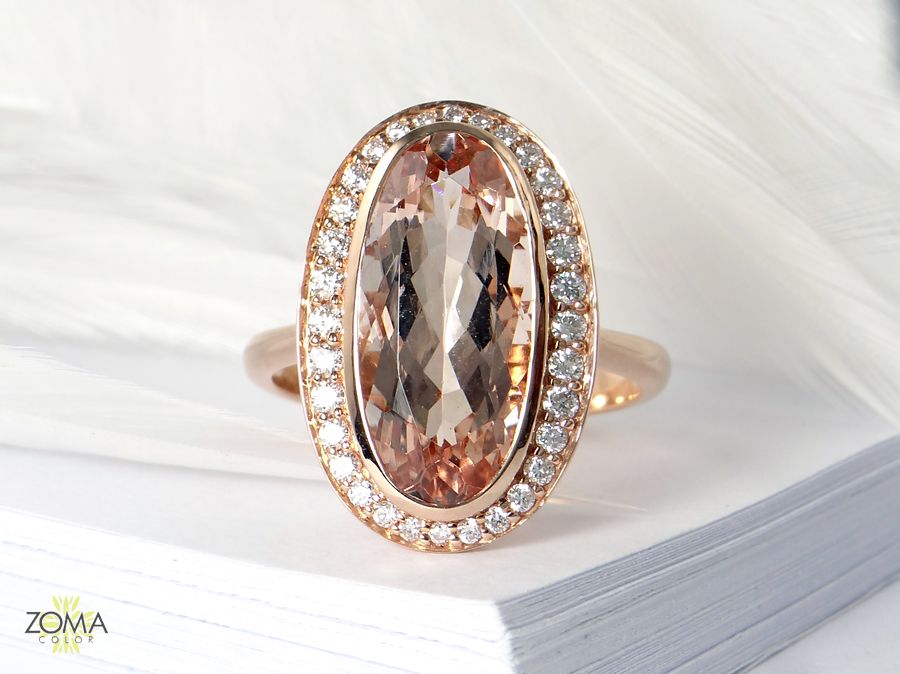 It seems like morganite is getting more popular over time. But it is a pretty stone with a beautiful pink/peachy hue, so no wonder about that.
Like this ring by Zoma Color. Morganite has something sweet and romantic about this stone. This ring definitely is all of that.
A pretty oval morganite surounded by pave diamonds. It's like what cotton candy is to kids, for me.



"For this piece, we were thinking of a woman that isn't afraid to show off her fashion forward sense. Morganite in rose gold has been crazy popular because of its ability to complement different skin tones and follows the earth-tone themes in fashion and from Pantone. But this ring, with a morganite over 4 carats and it's long oval shape says "I'm fashion conscious AND not afraid to be big and bold."
We were thinking of that confident woman that could pull off wearing a big ring…this isn't a "mall" jewelry store ring. It's a fashion statement." says Allen of Zoma Color, on for what kind of woman it has been created for.
[All images thanks to Zoma Color]