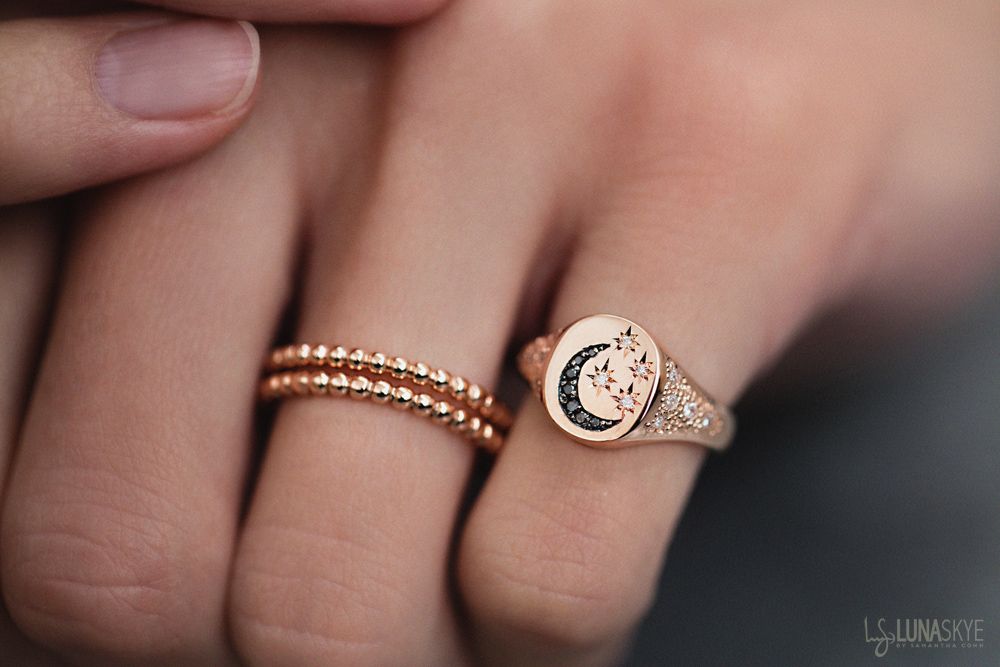 I'm personally a sucker when it comes to rings. Luna Skye is one of those brands who always make me drool over their rings. Every single one of them.
So I thought of designer Samantha's rings, knowing she has a few signet rings which I adore and wanted to pick one from for this month signet-themed blog posts. At the end…I emailed her to select herself a piece to feature about.
And so here is the 14kt gold Black and White diamond star and moon vintage signet ring in the spotlight today.
This pretty signet ring, as the name itself already explains, is a signet with an engraved moon set with black diamonds and stars in white diamonds. And for the extra sparkle, there are also scattered diamonds on the sides of the band. Detail matters!



Designer Samantha on her signet design:
"The significance of the star and the moon is due to an early love and connection I've felt with celestial energy and space. I've always had a connection and romance with the sky and especially night (as you can probably tell from the rest of the collection hah!). It's always brought me a sense of calm and self-center.
The black and white diamonds was something that I've always loved – the contrast between light and dark. That within nature and the energy of the earth there is always a natural rotation of light and darkness, both literally and energetically.
We within ourselves, have both a light and "darker" energy. Both being healthy and both being fed at different times. I love the way the ring embodies this without feeding to one side too greatly. Often times a dark side can have a bad reputation, and yes there are a lot of darker energies that aren't healthy, but we need the lows to appreciate and feel the highs – that the contrast between the two and all the grey areas in between are what make up who we are, our authentic selves."
[All images thanks to Samantha of Luna Skye]