Since I started Made of Jewelry two years ago, I got to discover plenty of designers which were totally unknown to me. It was (and still is!) such a pleasure to see their own styles which differentiates them one from the other & to discover their signature style and how they incorporate it collection after collection.
Huckleberry Ltd by Jason Hoehn is one of those brands. A unique line of jewels, for men and women.
Huckleberry Ltd (or 'Huck' for the fans!) was founded in March 2014 by Jason Hoehn, and co-founder Charles Lew. Jason is the creative director and lead designer. Charles, who is a close friend of Jasonand fellow entrepreneur, handles their business side.
If there was one particular focal point for Huckleberry Ltd, it's the idea of unisex jewelry. That's always been the case during Jason's 15 years of design and now it's become a hot topic referred to as "androgynous" style.
"I designed my first piece of jewelry 15 years ago which was our oversized, channel set horseshoe ring in 18k yellow gold with 11 white diamonds (jewelry tech talk, I can't help myself lol)." tells Jason.
Huckleberry is a fresh line which is constantly growing and balancing the line.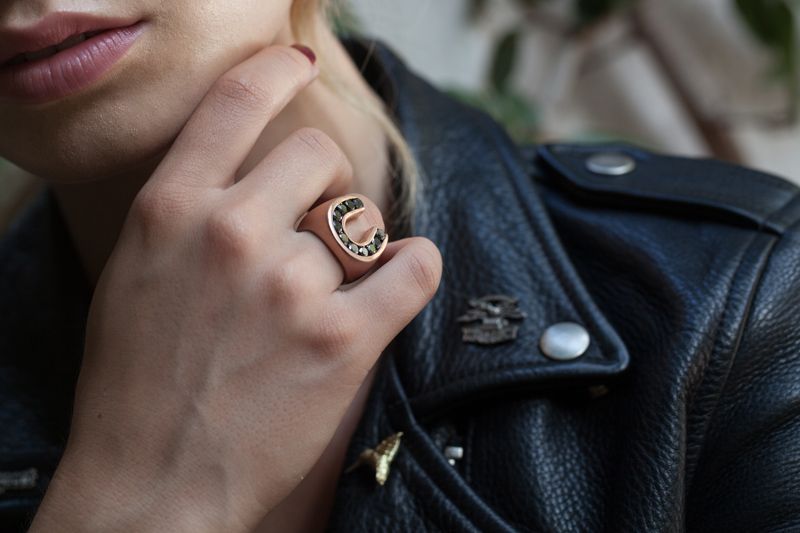 Jason: "We are a true fine jewelry and unisex brand catering to both men and women. For Fall/Winter 2015 we really focused on expanding our women's side with multiple layering necklaces, collars, bracelets, mini diamond letters from our official Huck typography, oversized horseshoe rings with a variety of precious stone choices like our Zambian emeralds and black diamonds along with a new addition to our on-going animal collection the Hummingbird necklace."

The core of the new collection is based off Huck's earlier 12mm Huck Band with side pave which is theirtake on the traditional cigar band. (see image below)
Jason: "We ran with multiple iterations using the circular shape and side stone work on a variety of hoop earrings, the collar/choker, bracelets, 6mm and 3mm Bands, and Halo necklaces with and without drops. As you'll see in the pics, the Halo necklace (small circle with pave stones) stands alone or can have a drop added whether that be a rose cut heart or pear shaped white diamond or a diamond mini Huck letter."
[All images thanks to Huckleberry Ltd | Photography by Adri Law | Collage by MoJ]