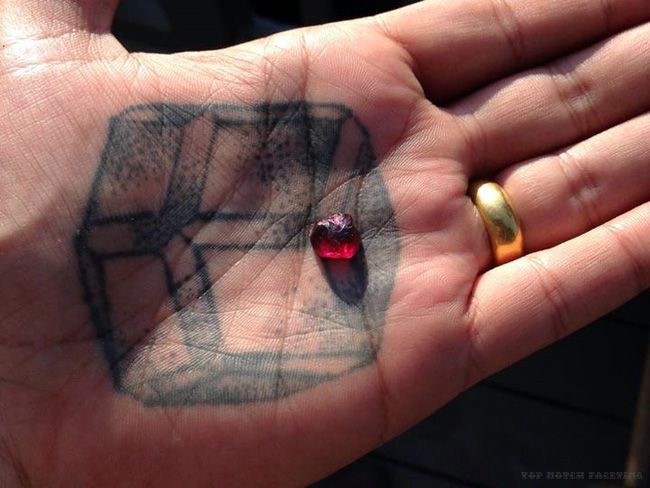 Gemology is such a fascinating thing. The more I have interest in jewelry the more interest I also have in gemstones.
Knowing gem cutting is not an easy job but quite rewardful, I had to ask a few questions to Jean-Noel Soni of Top Notch Faceting. He is a true artist who I really admire and who makes me dazzle by his craftsmanship.
He transforms raw pieces of rock into stunning faceted gemstones.

What did you study?
I am primarily self taught. Started by reading old books about the subject but mostly learned by practical experience, cutting stones.
What do you love about cutting gemstones?
For me, gem cutting is a meditative experience. What I would imagine Time Travel is like. One of the few activities that can keep me in one place for multiple hours. I love handling the crystals but the most enjoyable part for me is the interaction/relationships with the other folks in the industry.
What is your favorite stone to work with?
I adore garnets for their easy nature. Fun to polish and a "consistant" crystal structure. Zircons and Sapphires have also become favorites over the years.
Where does your interest in gemstones come from?
My interest in Jewelry started with my mother. She was an avid collector of antique pieces and I constantly found myself hanging out in Jewelry Stores as a young child. As for my interest in the stones, I'm not really sure how that came about. The craft sort of called to me one day and I haven't looked back since.
What are your views on the gemstone industry?
First word that comes to mind when I think about the industry is "Immense". There are so many different sides to the business and I'm constantly being surprised by it. I love the different characters that dwell within this world.



Be sure to follow him on Instagram. You don't want to miss out his high-precision facetings.
https://instagram.com/p/0gni7vHNLt/