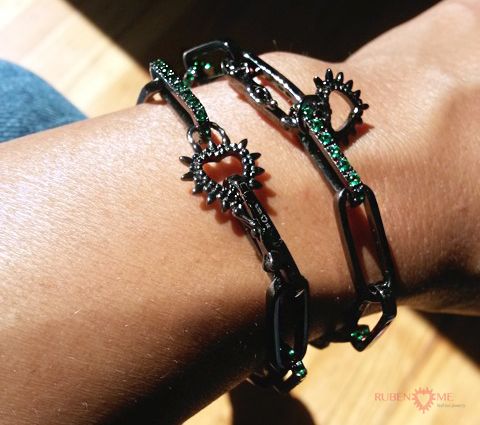 I have these periods I tend to be obsessed with certain pieces or jewelry styles. For example the LinkedUp bracelet by Ruben Loves Me. A bold bracelet with large links and Ruben Loves Me logo heart charm. This babe in black rhodium plated sterling silver and emerald crystals also comes in yellow plated gold with sapphire crystals.
For sure the perfect addition for everyday wear but also to make that fabulous arm party even more complete!

Designer Jeanette on the LinkedUp bracelet:
"I named this bracelet LinkedUp because in a real sense it reminds me that we, all of humanity, are connected. Whether that connection is romantic love or whether we share our sense of empathy for one another as strangers. It goes back to what the circle symbolizes. There is no ending nor is there a beginning, it is a continuum of life. So if one human being is in distress then we are all in distress. Therefore the Linked Up bracelet with large bold links and the heart drop symbolizes our connectedness to each other as well as our innate responsibility to love one another."

"We desire closeness with other human beings, in the form of either some starry-eyed romance, caregiving or mutual friendship and of course these are the truest forms of natural love.
When someone looks at an item of jewelry it either speaks to you in an intimate and passionate way or it does not. However, it has been my experience to give my reasons for why I designed a certain item. I often paint an emotional picture for a potential client who then draws on their own life experiences.
I design jewelry with these same emotions. To give the best part of myself through caring, intention and 1000 percent of my heart." – Jeanette on her inspirations.