When an client's idea and a great designer come together, this is what you get! A beautiful unique dark blue cushion cut sapphire which is surrounded by diamond cut round pink sapphires and white diamonds everywhere.
Besides the stunning two-toned band design and pretty stones, there is some more detail going on under the basket. Details matter for sure!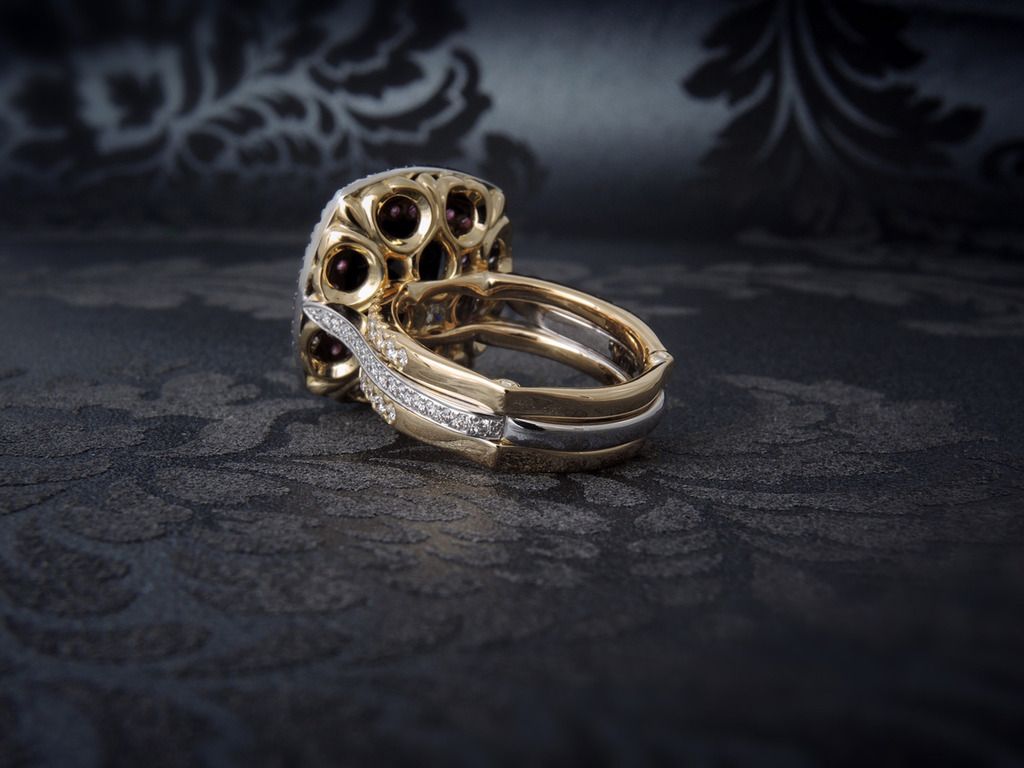 How the ring came to life:
"The couple had a reasonable idea about what they wanted, that being a very dark blue or black stone as the centre stone in a cushion cut surrounded by a halo of pink Sapphires and another halo in white Diamonds. There wasn't anyone nearby they were comfortable with in creating this piece for them so after flying up to the Gold Coast to visit us at JWG we talked over the design and started to source the centre stone. After a few weeks of phone and email discussion over options we settled on a dark blue Sapphire, we then worked out a time for them to fly up to see the stone over our Christmas holidays, we were technically closed but we are happy to accommodate especially as they were flying up to see us again.
With the centre stone chosen we drew up some design options and juggled around colours via email and once the general design was agreed upon we were allowed artistic licence with the details. We always like some leeway in the creation of a piece of jewellery as this way it develops on the bench organically, rather than forced in a direction that isn't ideal. In the video you can see some of the step that were involved in making up the piece, all in 18ct yellow and white gold.
Once completed, rather than have their ring freighted down to them he flew up again one morning to collect the ring to fly home again in the afternoon and finally officially propose. Its a great feeling having a couple who love our work travel a long way and pass a lot of others to let us create their special piece because they believe in our passion." as told buy designer Guy Abrahamsson.
[Images and video thanks to JWG]