Next up in the Jewel Lovers series is Sarah. I noticed her for liking a lot of my Instagram post. It was obvious she was a jewelry enthusiast. So, recently I contacted her to share with you and me about her favorite jewelry pieces.
Such a wonderful collection!
My name is Sarah (follow her on Instagram) and I'm a big fan of Sophie's blog. So I was thrilled when she asked me to contribute to the Jewel Lover's series. Also, very honored to follow the outstanding collections of Jennifer and Kari, as well as Liz; all of whom I admire and follow on Instagram.

As a little girl I remember wanting to order jewelry from the Sears' catalog. Luckily, I was able to do so with saved babysitting money by the time I was thirteen. I would also frequent the only jewelry store in the small town where I grew up and ask to try on EVERYTHING. Around this time, seeing my passion, my mother generously began gifting me a few heirlooms, here and there, on big occasions such as Christmas and my birthday. A real treat was when she would invite my sister and me for a "viewing" of her special most prized pieces, hidden away in a cardboard box! We were wide-eyed and giddy with delight by the sparkle of diamonds and rich delicious colored gems.


By age sixteen, I was wearing my two most favorite rings every day; a Georgian era aquamarine and rose-cut diamond quatrefoil and a Victorian Persian turquoise and rose gold butterfly. My love and affinity for antique jewelry continued from there. Two early turquoise pieces began a fixation and adoration of the incredible combination of turquoise and gold together. I find myself mesmerized by it and drawn to any piece with turquoise.
I was always fascinated by this black onyx cameo locket because of the unusual mechanism to open it and because of the mystery surrounding the pictures inside and the monogram on reverse. My mother couldn't really tell me too much about it but after some genealogical sleuthing I determined it must have belonged to my great-grandfather's brother, the only initials to match. I had been staring at my great-great grandmother all those years! Wow.
Front & Back
I also enjoy modern jewelry. My favorite designer is the talented and beautiful Kathy Rose, who owns a wonderfully curated magical treasure box of a gallery in Los Angeles called Roseark. Her lovely spirit and big heart are infused into every piece she designs, which include motifs inspired from nature, the animal realm, the sea, and far-off lands. Her cuffs stack in the most divine way. Here, below, I'm wearing my totem pieces; the yellow gold diamond snake bracelet which was inspired by a trip she took down the Nile, and her hugely popular eagle cuffs in silver and gold.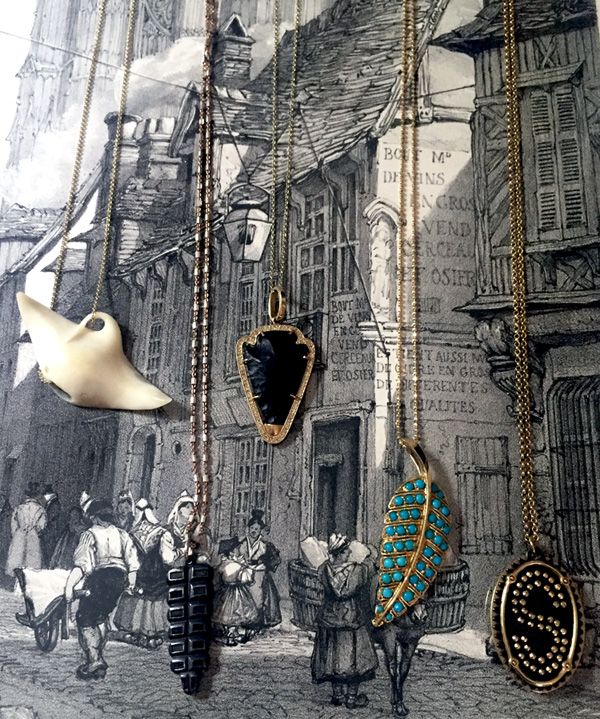 My favorite necklaces by Kathy: carved bone manta ray, black diamond rattler, the iconic arrowhead as well as this gorgeous turquoise leaf necklace by another LA designer—Jennifer Meyer—who I first came to know about through Roseark, and an "S" by Philip Crangi.
A shot of me layering the arrowhead, black carved manta ray and the rattler.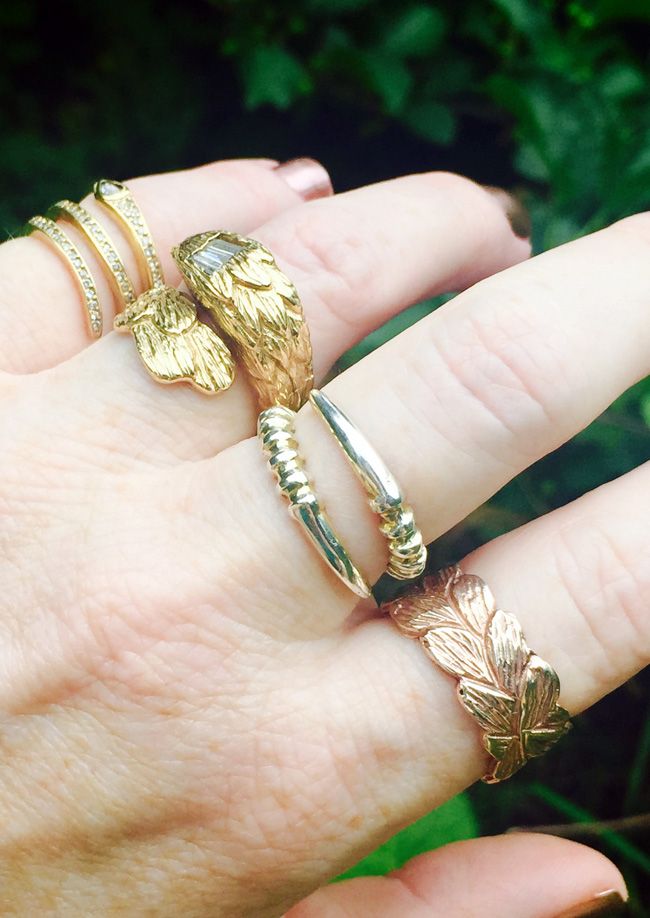 My favorite rings by K.R: one for each finger!
A mini snake ring, the standout eagle —what I call my grail piece— , antelope ring and her tail band.

A shot of four beloved rings—antique and present day.
Kathy Rose pieces: eagle cuff, snakes, eagle ring, and eagle stud.
There are other amazing designers represented at Roseark. Presently, I am lusting after the Lotus and Wanderlust rings by Yakira Rona as well as the Can Top pendants from Huckleberry LTD. His Skull and Bear rings are crazy awesome, too!
Sarah will without a doubt have her collection grow over the years. Up to more favorite jewelry pieces! And Sarah, thanks for sharing all this.
[All images thanks to Sarah | Collages and edits by MoJ]