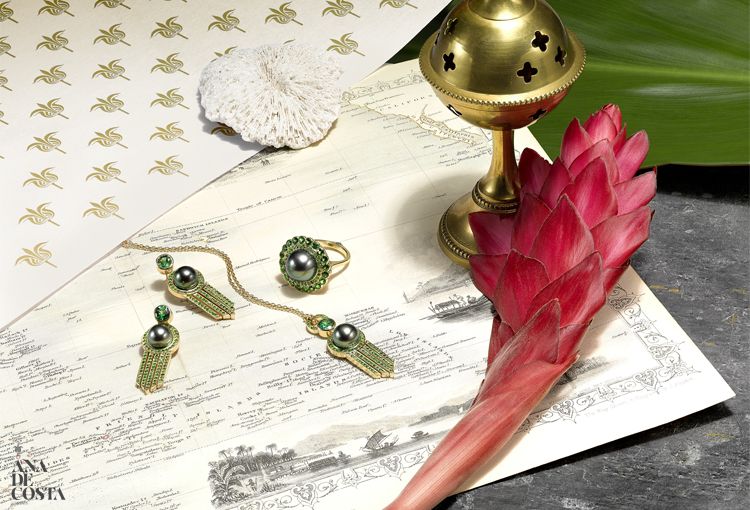 Ana de Costa work is incredibly beautiful. If you don't know her creations yet…keep on going. You'll see what I mean.
Besides her amazing collectiopns, Ana also create bespoke pieces. Her private commission clients include Hollywood celebrities and royal family members. This deserves a standing ovation, right? But before we do this, let's take a look at her incredible creations which go from 18k gold earrings set with tsavorites to stunning tanzanite rings. Each piece is a little artwork and you'll admire the artwork a lot.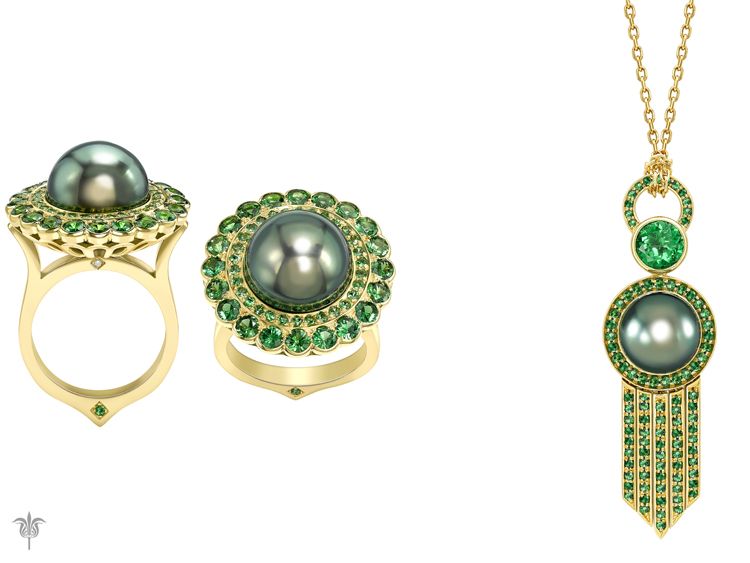 The Perle Noire Collection is a  limited edition haute fine jewellery collection features rare black Tahitian pearls, sourced and bought from Tahiti and the warm waters of the South Pacific.
It is a celebration of the beauty and wonder that can be found in the natural world.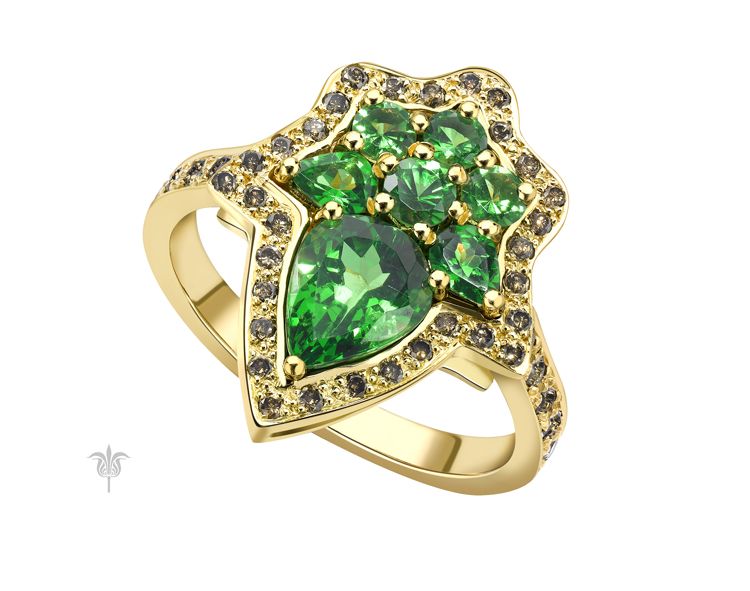 Exquisite 18ct yellow gold dress ring (as seen worn above), set with 1.82ct of tsavorites & pave set with 0.15ct of cognac diamonds. This gem is part of the Spiritual Henna Collection.
Other beautiful pieces from the Spiritual Henna Collection, -inspired by some of Gandhi's most powerful quotes- & featuring paisley & exotic lotus flower motifs from henna designs., are these Lotus Bud rings, Lotus Petal pendants and Lotus Petal studs.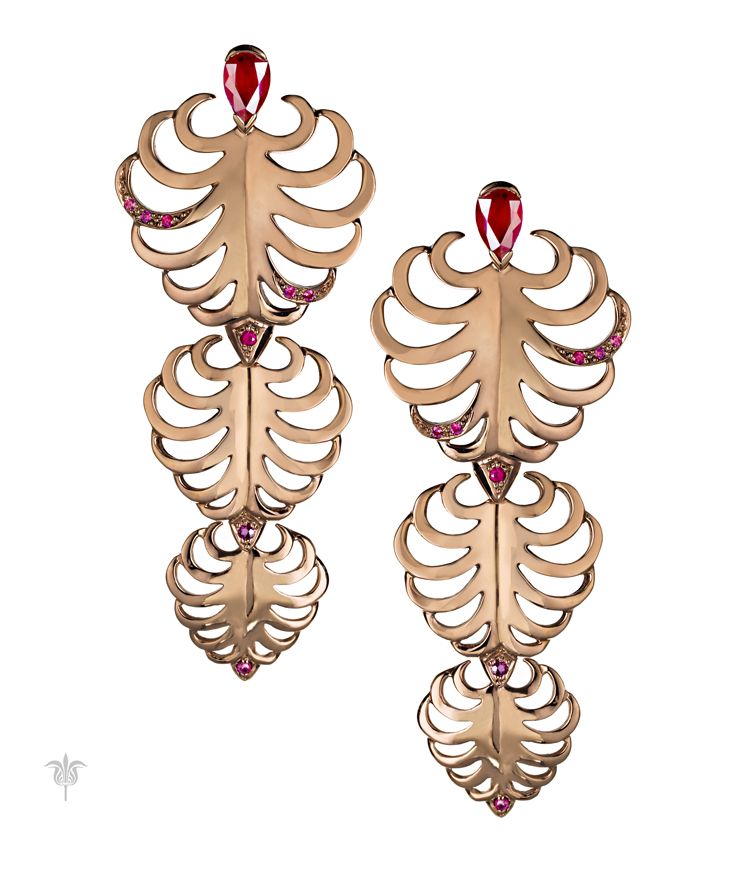 Each jewel from the Mystical Tarot Collection is inspired by a separate card, cards from a rare deck of Art Nouveau tarot cards,
selected for their beautiful artwork & spiritual meaning. Those cards inspired this collection & the pieces form a narrative,
following the story of the characters.
This pair of earrings are one of these jewels, the 18ct rose gold dress earrings. Set with 1.15ct of natural rubies & 0.10ct of pink sapphires.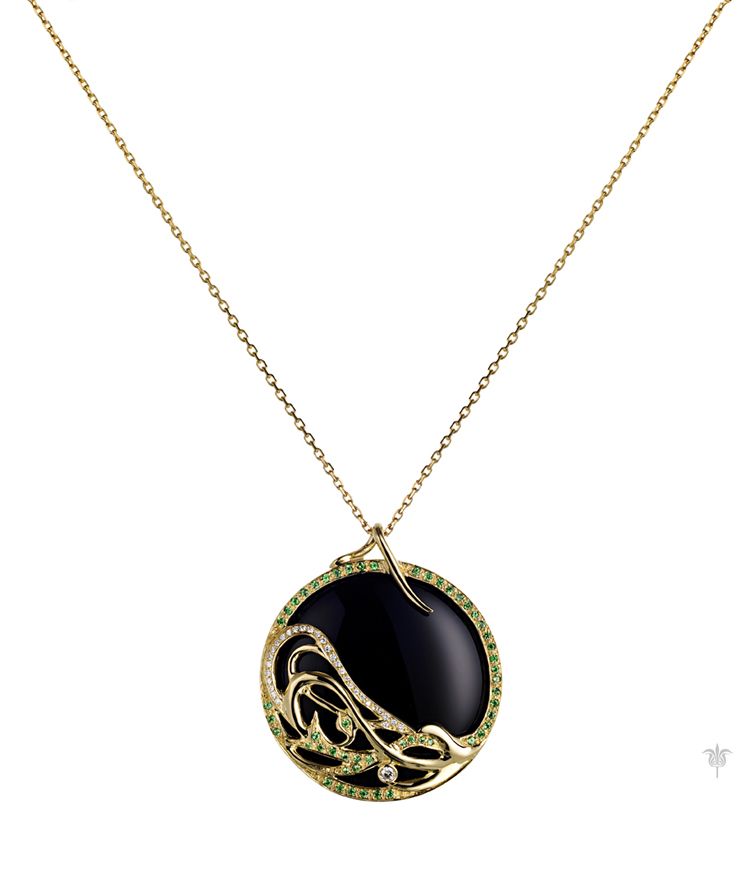 This beautiful 18ct yellow gold and onyx Art Nouveau pendant is pave set with 0.20ct of white diamonds & 0.50ct of tsavorites. Also a beautiful piece of the Mystical Tarot Collection.

Ain't this a gorgeous cocktail ring?  This gem is a 18ct white gold cocktail ring, set with a 9.74ct cushion cut tanzanite & pave set with 1ct of white diamonds.. Look at those side details!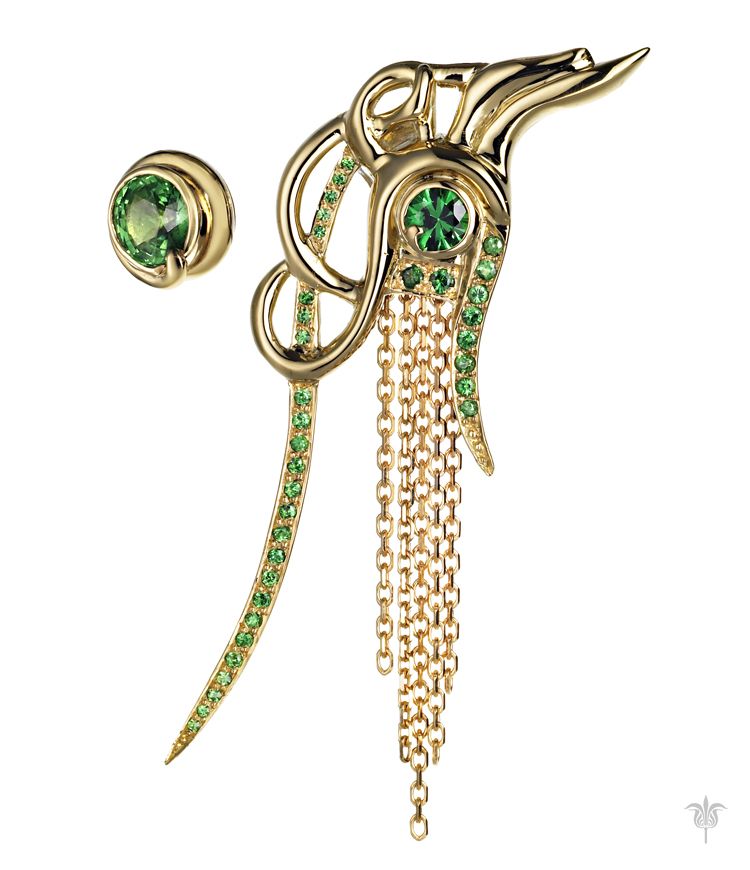 Last but not least is this 18ct yellow gold asymmetric earrings, set with 1.56ct of tsavorites. Splendid!