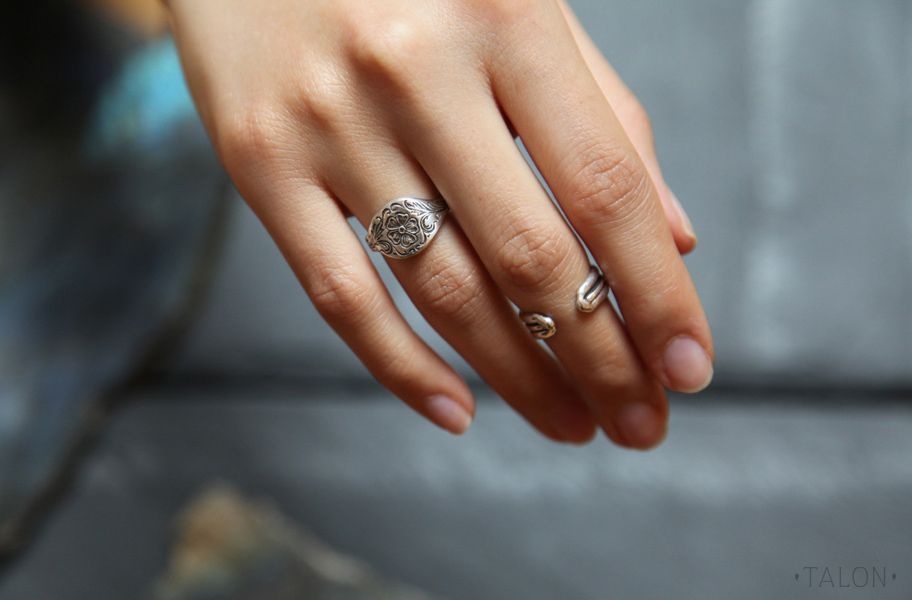 When it comes to Talon, I adore their Zodiac collection. The signets and necklaces are so damn good! And I love, love how my sign (Virgo) looks!
Anyways, I am here today to show off another pretty piece by Talon. The No Other Posey ring! As described on the website: In days of olde, love was often expressed in imagery and inscriptions on posey rings. The No Other ring is their take on this romantic tradition.
The posey ring (sometimes spelled posie, posy or poesy rings) dates from the15th – 17th century and was created in either England or France. These rings enclosed a short inscription on their surface and were meant as lover's gifts. Romantic right?
Emily on the inspiration behind the Posey ring:

"As you can probably tell, I get a lot of inspiration from vintage or antique jewelry. When I first discovered posey rings, I knew that I had to make one with my own twist. Most of the antique posey rings have sayings customized to a lover, which I liked, but wanted to create something a little more universal that someone could buy for themselves (or someone else). I spent a long time trying to come up with the right text that was worthy of being engraved in metal. My designs tend to have a dark romanticism to them, and so I really like the mystical quality of talking about the moon and the embers in a fire. Once I came up with the phrase Light of the Moon, Embers of the Evening, I knew it was perfect. I carved the band out of wax and then casted it in metal. Then I had it engraved by a hand-engraver in New York."
"After I created that ring, I then did the "No Other" posey ring, which was inspired by my favorite Gene Clark record, No Other. I also loved that the phrase could apply to a lover as well. For that ring I wanted to incorporate some romantic flowers as well. I carved the shape of both rings out of wax, then casted them in metal and then had them hand-engraved, which is an amazing art." – explains Emily.

[All images via Talon]