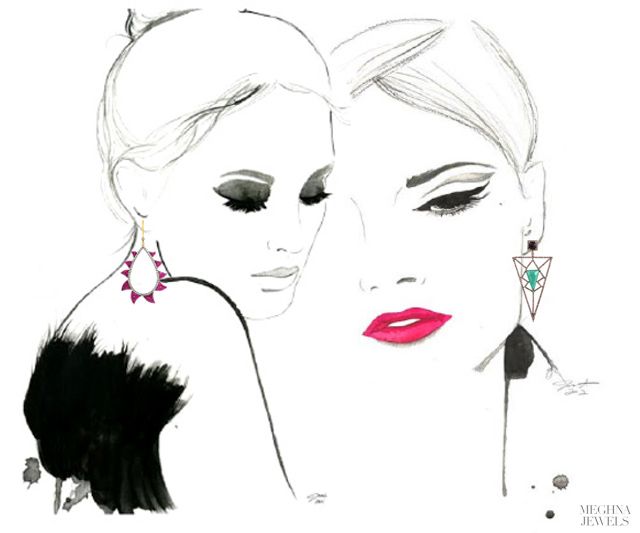 Based in Chicago and launched in 2011, Meghna Jewels has transitioned into fine jewelry in 2014.
Designer Meghna Patel is now focusing more on the creative side and designing unique pieces. The brand is defined by its use of stones, diamonds, and structural silver and gold to develop adventurous, luxurious and wearable pieces. Inspired by her Indian heritage, Meghna uses bold precious stones, layering her designs with her signature diamond pave arches.

Meghna's creative process is simple and organic. She receives constant inspiration for her designs anything that she falls in love with at first sight.  It can be a beautiful place, painting or a fabric with unique motif which she can later incorporate in her jewelry.
"I begin simply, with a blank piece of paper and an idea. That idea can occur to me anywhere, often, in the most unlikely places, but soon enough I complete a sketch and that marks the birth of that particular piece. My favorite part of the design process is being able to witness the life of each piece. ", Meghna explains.
Meghna's designs are not demure; they are adventurous.
Meghna: "Looking back at when I finally began to work on my pieces, I realize now what came out in some ways is representative of the places I've lived and traveled to. What I hope to convey with every bracelet or ring is a warm invitation to go where I have been and see what I have witnessed around the globe. I am grateful to all of the many fans, to the cities which have inspired me, and the family that helped propel me, and I wish just as many blessings to each of you. "
Meghna Jewels has currently two collections which are the Bora Bora collection and the Claw collection. Both collections have one thing in common which is the sharp pavé arches however they are played differently in both collections. The Claw Collection pieces are fierce and edgy designs while the Bora Bora Collection pieces are timeless and exotic. Beyond captivating!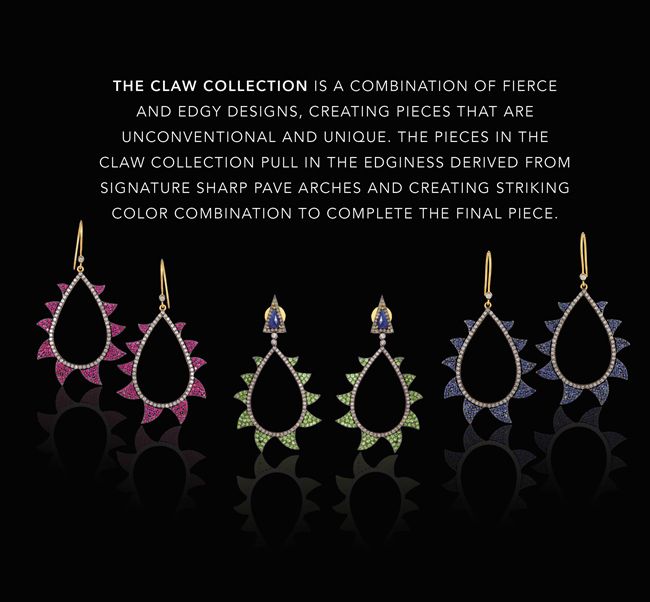 The pieces in Claw collection pull in the edginess derived from the signature sharp pave arches and creating striking color combination to complete the final piece. The colors used in this collection makes it all more playful while the arches remind me of sunshine.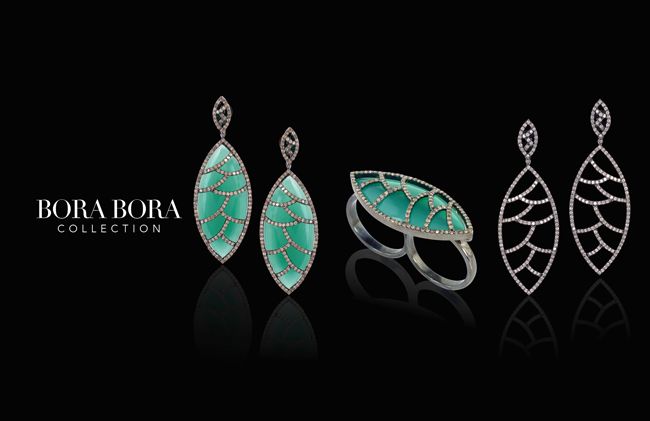 Each piece of the Bora Bora collection is centered with a single gemstone as base and accentuated with signature diamond pavé arches. The designs have pretty shapes and forms of leaves with sparkling pavé blades and venation.
[All images via Meghna Jewels |Collages by MoJ]