Today is my pleasure to have Kristina from Leola Revives to share about her favorite personal jewelry.
She adores vintage and antique jewelry and has been a collector for many years.
Besides collecting and selling gorgeous anitque jewelry, she also designs new pieces so be sure to visit her Etsy store Leola Revives soon!

Hi all, I am Kristina of Leola Revives an online boutique of curated antique and vintage fine jewelry. I have been a lover of jewelry for as long as I can remember, especially colorful gemstones. According to my grandmother, when I was a child, no watch was ever safe in the house as I would take them apart and dig out the little rubies and sapphires from inside the running mechanism!
My grandmother & mother are both lovers of fine jewelry and I definitely inherited my love of sparkly baubles from them. When Sophie asked me if I would like to be featured in her "Jewel Lover" series I was pleased for the opportunity to share some of my favorites with you guys. Although I am a big lover of necklaces and earrings, this time I would like to talk about my rings.
Most of the rings that are special to me fit into 1 of 2 categories; they are either a gift from someone important like a family member or they are a "first" special purchase.
• The large amethyst and silver ring on the left was actually the very first antique piece of jewelry that I bought for myself when I was a young teen. At the time I was visiting Budapest with my parents and saw it at an antiques shop, falling instantly in love. I went back to look at it 3 times and just before the end of the trip I decided that I must have it, even if it meant blowing my whole month's allowance.
• The diamond inlaid amethyst "Rose of Sharon" ring surrounded by pearls was also a "first", this time my first pricey online purchase. I love the detailing and the effort it must have taken to inlay the diamonds into the amethyst (a very soft stone on the MOHS scale) without cracking it.
• The piece on the right side featuring a lovely sky blue topaz was one of the first rings given to me by my grandma for keeps. I was around 9-10 when I received it from her and even though for years, it was too big for me to wear, I always loved looking at it. The gem has stunning faceting, the silver work is gorgeous. It's a mid-Soviet era Armenian made piece and I have never seen its like anywhere else. There is also a cute story attached to it, I met one of my best friends in high-school when this ring accidentally fell into her locker and I had to ask her to get it out for me. Before this happened we didn't really talk to one another but this ring somehow brought us together, so it always felt a little magical to me. 🙂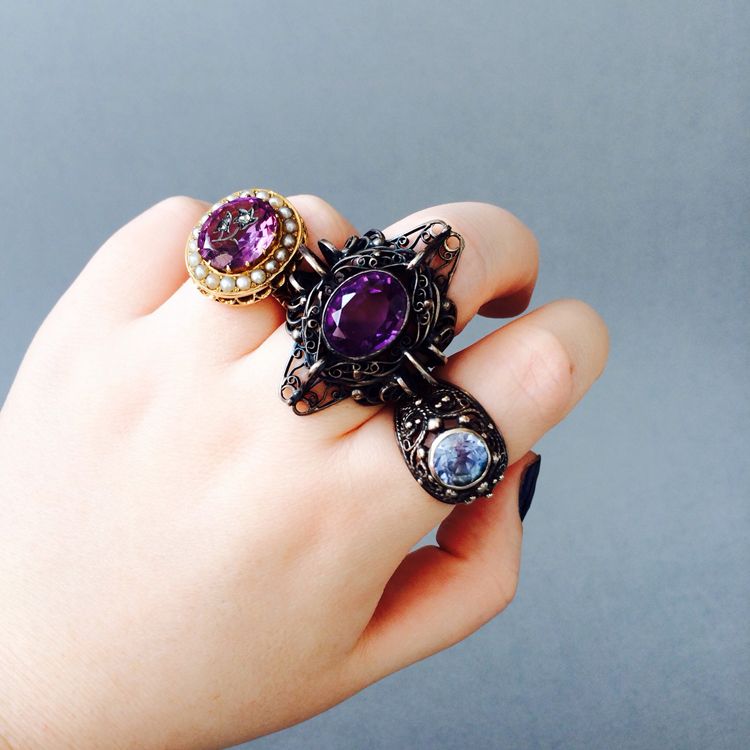 • The large pink spinel on the left is another statement ring given to me by my grandmother a few years ago, it too is a mid-Soviet era piece and the pink spinel along with rose gold make a lovely combination.
• One of my most treasured rings is the simple but lovely belcher set ruby wedding band in the centre, it was my great-grandmother's wedding ring given to her by my great-gradfather (who adored her) when they were married in the 1920s, he died many years before she did and she never re-married or dated anyone else.
• The snake on the right side is one of the first snake-rings I originally purchased for my online boutique, but I just couldn't part with it! It stacks so beautifully with my great-grandmother's wedding band. This snake ring started a mini obsession to find the coolest snake rings for my customers and snake rings are still one of my shop's main specialties.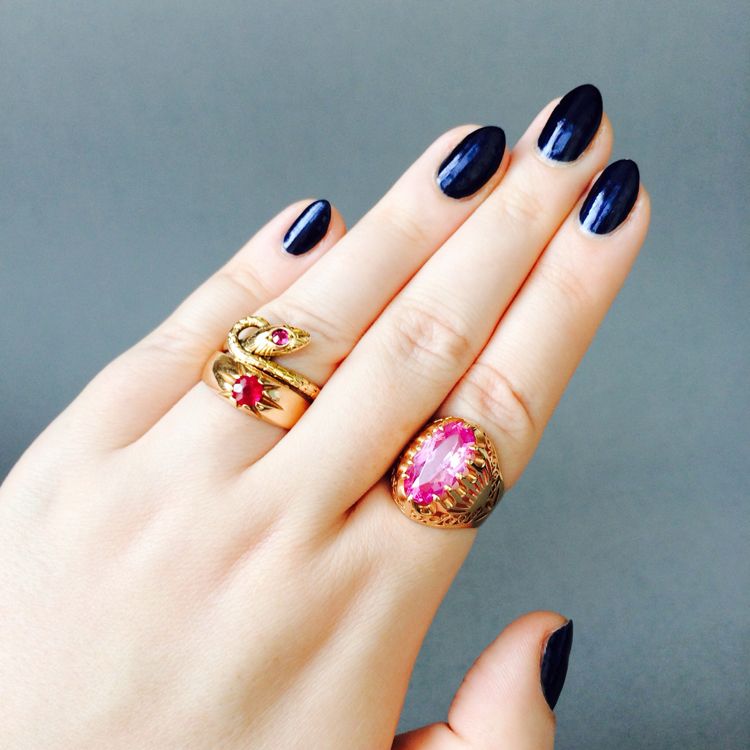 • The onyx bird intaglio featuring a small rose cut diamond, is one of the first conversion rings ever made for Leola Revives, but yes you guessed it, in the end I could not part with it.
• The gorgeous, vintage onyx point ring in the middle was a gift from my mother to celebrate the opening of my boutique. I often use it in ring group shots and I have had many offers on it, however I would never sell it, so instead I have decided to make a mini-collection of onyx point rings inspired by this one, these are now available at Leola Revives.
• Last we have one of my favorite conversion rings, made from an Edwardian era "honeymoon" brooch, the crescent moon and star adds an instant air of magic to any ring stack and the motif reminds me of some of my favorite Japanese anime from my childhood. I always make sure to have similar conversion pieces available in my boutique.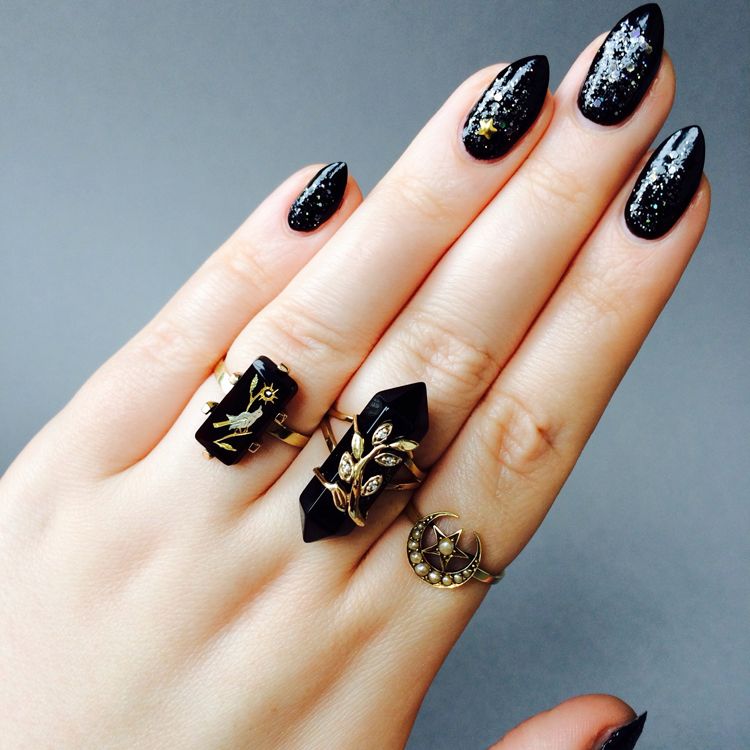 I hope you enjoyed looking at some of my favorite rings and that you are inspired to start a sentimental collection of your own! 🙂
[Huge thanks to Kristina for participating and beautiful imagery]