Lisa Schuler's charm holder with charms curated by herself. Perfection.
The latest addition to Susan of Circa 1700's jewelry line is the fabulous Eternal Love Snake Charm Holder. Yes, fabulous! The Snake Charm Holder is probably your next gem passion. The ouroboros/snake comes in two size, large and small.
The snake can hold numerous charms that can be added and removed with ease as can chains of your choice. You can mix up any charms you want, the possibilities are endless. Susan can help you with the charms.
I think we all need a Snake Charm Holder! Irresistible, right?

More about Susan's passion and love for jewelry & the Snake Charm Holder:
Jewelry has been a passion of mine since I can remember. My mother says I came out wearing jewelry (an umbilical cord), and my love of jewelry has never wavered. The Circa 1700 Inspired Collection is inspired by the ages and strongly influenced by Georgian and Victorian jewelry and symbolism. Mixing metals, gemstones – both antique and new – and symbolism to create pieces that tell a story. And the Circa 1700 Eternal Love Charm Holder is one of those pieces.

I wanted to create a piece that embodied the symbol that inspired a wave of romantic love tokens during the Georgian and Victorian periods – the snake. The snake symbolizes eternal love. And for those of us who love charms, but want a versatile way to wear them – was the inspiration for the snake charm holder.
The charm holder springs open so one can add or remove charms as well as chains and then snaps securely shut. What I love about these snake charm holders is that they lay flat when worn around one's neck – allowing the charms to spread out so they can be seen, creating a charmed kaleidoscope necklace that exposes different charms as they dance for position. 

The snake charm holder comes in two sizes – large and small – and can be customized, from the karat and hue of gold – rose or yellow (hoping to add green gold shortly) – to the gemstones used for the eyes (ruby for passion or sapphire for prosperity or diamond for fidelity or one's birthstone) to the charms selected – from your own collection or from the Circa 1700 antique charm collection.

 I love collaborating to create these bespoke charm necklaces that symbolize love and luck – along with many other sentiments – and that celebrate engagements, marriages and other special life events. I'm in the midst of creating a snake charm holder that has two different eyes – one for the birthstone of the wearer and one for her daughter's birthstone. Making the piece both bespoke and a family heirloom to be passed down.

And what made this snake charm holder even more symbolic is that it is part of a new collaboration – Jewelophile with Beth Bernstein. I was in the midst of creating the charm holder when we realized it would be the perfect symbol for our collaboration since Beth and I are both huge fans of snake jewelry. And I'm about to add a floral charm holder with different flowers once again each flower symbolizing love, luck and loyalty. So here's to a charmed life and eternal love!
For all pricing and purchasing info, please email Circa 1700.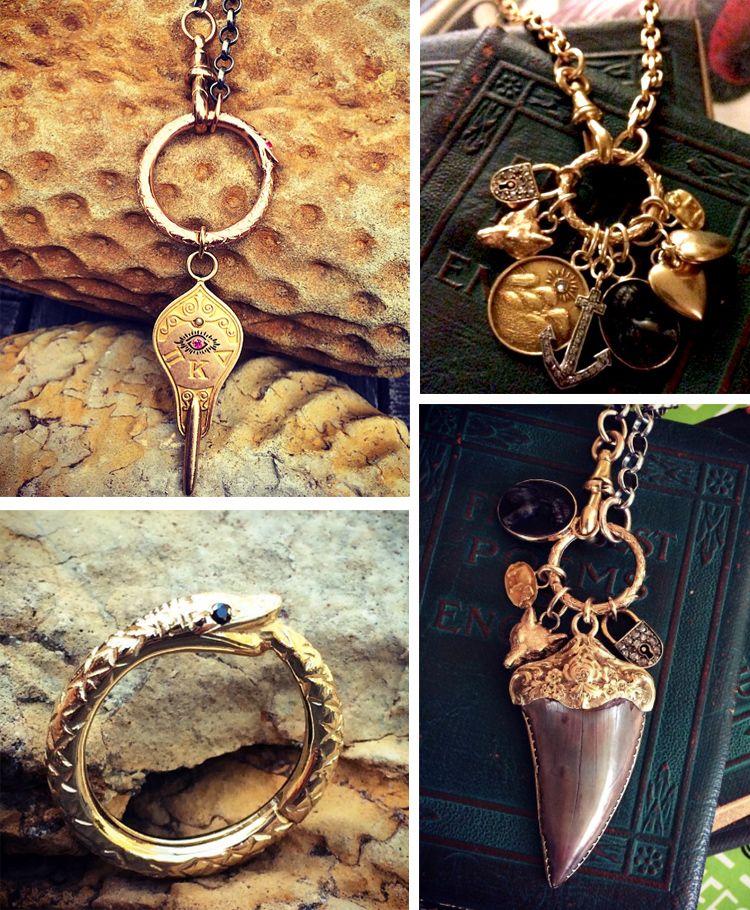 [All images thanks to Susan of Circa 1700 and the owners of the Snake Charmers]