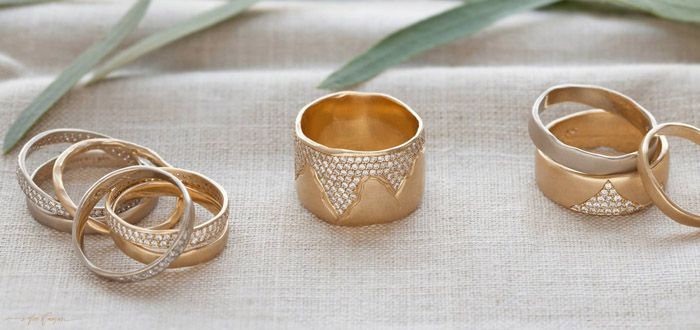 Sofia Kaman is the designer and creator of Sofia Kaman fine jewels- and aspirational treasure hunter. She has been unlocking gem-encrusted dreams from her unconscious for the last decade via wax-carving and metalsmith techniques she learned on her many journeys to self-discovery.
When it comes to Sofia's rings, it's stack-heaven! Her rings are the kind of pieces you'd never want to take off..ever again.
My eyes have caught the gorgeous Cracked band ring. This wide ring has that perfect amount of sparkles which makes it at the same time very feminine. The ring is a softly textured gold band which is cracked and reveals seta of diamonds.

The band size, and so its style, vary from 7mm to 15 mm. Sofia offers you four Cracked band rings, up to you to pick your favorite. I already know mine...